Saint Joan of Arc; Inspirational Jewelry Gifts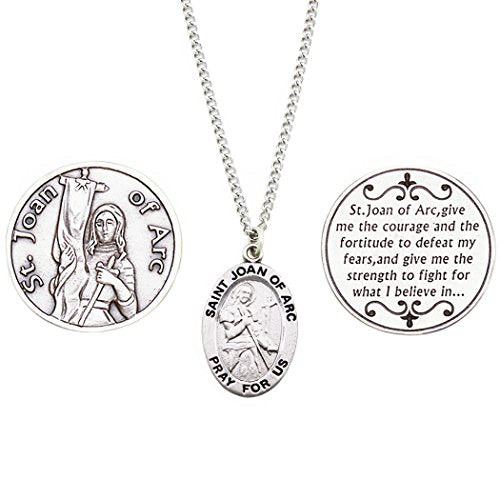 Saint Joan of Arc, the patron saint of France, is known for her determination, intelligence, and courage.  She was called upon by Saints and angels, urging her to help unite and defend France. If you're looking to celebrate a baptism, graduation, birthday, or religious holiday look no further! With an assortment of necklaces, pendants, medals, tokens, and bracelets celebrating Saint Joan of Arc, Rosemarie Collections offers wonderful products to commemorate this ever-important woman in Roman Catholic history.
Not only is she an exemplary role model, but she's seen as an inspiration in the fashion world. Chainmail armor inspired necklace chains call homage to Joan's victory against the English. Beautiful bas reliefs of her dawning her sword and halo dawned head perfectly represent the duality of fearlessness and elegance she possessed. Our necklaces and token sets come with an ornate prayer card, detailing the Prayer to Saint Joan of Arc surrounded by gorgeous gold foiling. Worn as a reminder of our Saints and all they have done under the blessings of God; these gifts can be used as a beacon of faith.
Long Joan of Arc Pendant Charm Necklace
Joan of Arc Charm Bracelet with Four Way Cross
Joan of Arc Medal and Prayer Coin
Long Joan of Arc Charm Necklace
|
Posted on March 02 2022