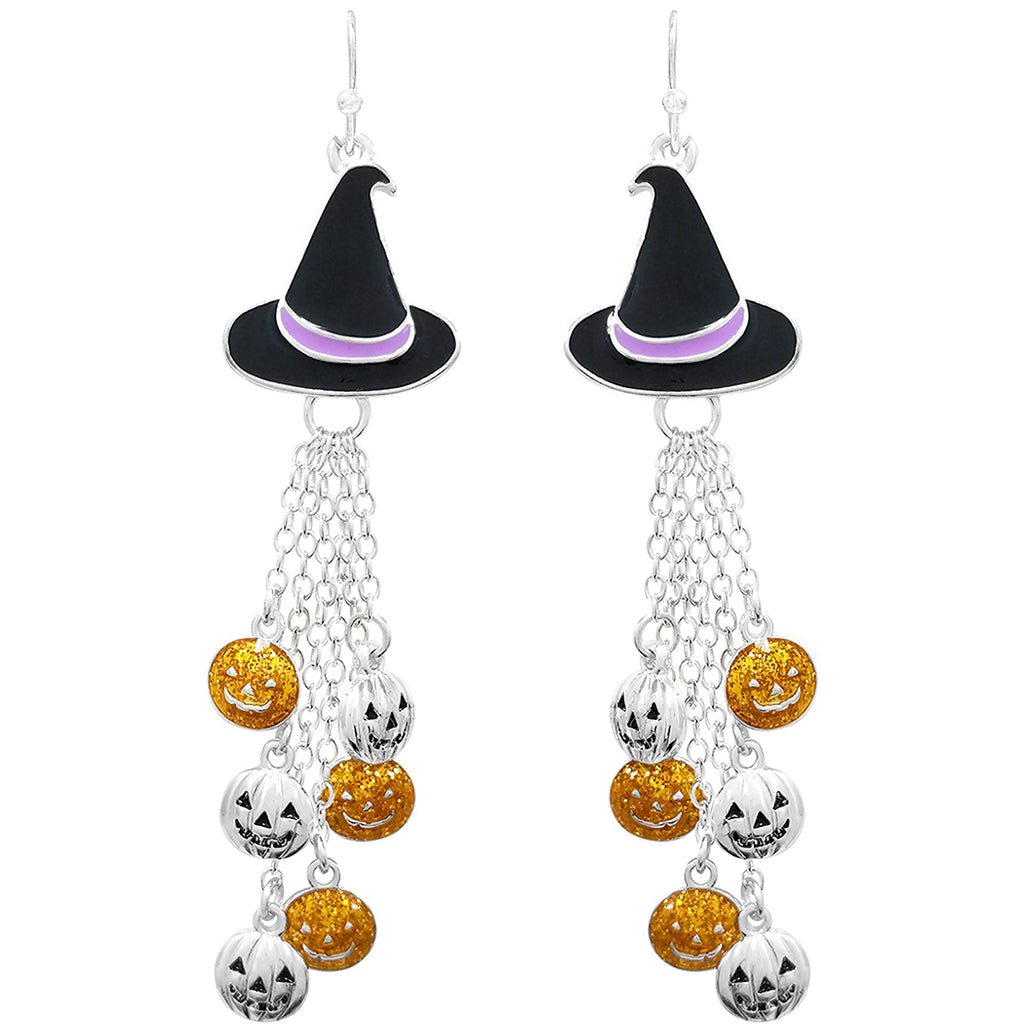 Spooktacularly Fun Enamel Jack O Lantern With Witches Hat Halloween Dangle Earrings (3", Witches Hat With Dangle Glitter And Silver Pumpkins)
Details
Looking for some spooktacularly fun earrings for Halloween season? You'll just love our different sets of jack o lantern pumpkin earrings! Bring some bold and bright style to your accessory collection with these colorful enamel coated earrings! 

Earrings measurements as follows, Pumpkin With Purple Witches Hat: 1.5 inches long by 1 inch wide. Stacking Glitter Pumpkins: 2 inches long by 0.75 inches wide. Witches Hat With Dangle Glitter Pumpkins: 3 inches long by 0.75 inch wide. All three pair are lightweight, comfortable and easy to wear all day long on silver tone fish wire hooks. 

Three fun Halloween stye earrings with enamel coating to choose from. All sets feature a classic Halloween jack o lantern and a witches hat theme. Choose from stacked glitter pumpkins topped off with a hat, a large smiling pumpkin in a bright and colorful purple hat or petite glitter and silver tone pumpkins dangling from a black witches hat. Artistic and stylish, these earrings are sure to be a conversation piece every time you wear them! 

Celebrate October in style with these versatile and whimsical earrings. These fun earrings are great for spooky dress up, Halloween and themed parties. They look great dressed up, but is just as stylish with a pair of jeans and casual t-shirt! 

Ready for gifting, each item is packaged in a lovely eco friendly gift box with a non tarnish jewelers fiber pad. Boxes are made in the USA of recycled materials!